teresas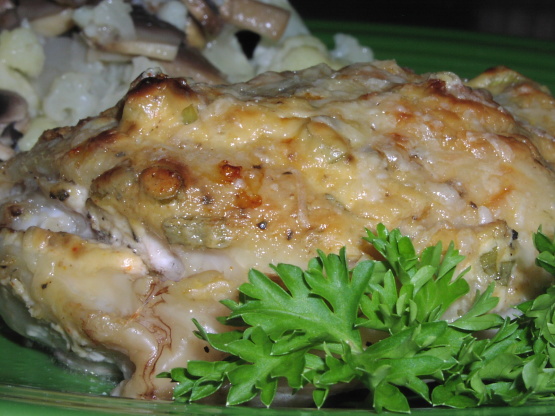 This is a recipe out of a charity cookbook, I have had this, and it is delicious. I made a minor adjustment.

Truly an enjoyable dish! I wish I had used more of the cayenne pepper because I really didn't get any heat and I love heat. I made this with bone in skin on thighs and used full fat yogurt and sour cream. Love that it made a nice creamy sauce for the chicken. Delicious! Thanks for posting. :)
Preheat oven to 350°F.
Ina large glass baking dish, arrange chicken in a single layer.
Drizzle with lemon juice, then sprinkle with salt and pepper.
Combine yogurt, mayonnaise, scallions, mustard, Worcestershire sauce, thyme, and cayenne pepper in a small bowl, mixing very well.
Spread the mixture over the chicken and bake for 50 minutes.
Drain off all juices.
Sprinkle cheese on chicken.
Preheat broiler and broil chicken 4 inches from the heat source, for 3 minutes, or until cheese melts, and browns slightly.