Pancakes With Fresh Strawberries
diner524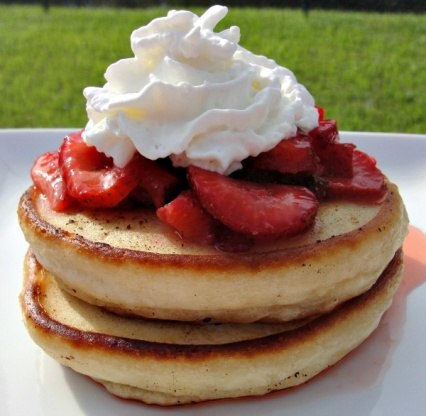 The Amish know how to make a delicious pancake. This is probably the lightest, fluffiest pancake I've ever eaten, and it didn't require beating the egg whites. The recipe really does call for a tablespoon of vanilla (I thought it was a typo too). These are so simple there's no excuse to use pancake mix again. You can make them with or without the whipped cream and strawberries. Recipe from The Amish Cook at Home. Serving size is estimated because it wasn't listed.
Yummy!!! I made 1/2 of the recipe and felt these were so flavorful, the vanilla really comes through in taste. I sliced up my fresh strawberries and then sprinkled a little sugar on them and let them rest for about 15 minutes, while making our bacon. These pancakes are very thick and fluffy, so you need to cook them lower and slower to get them cooked right. The end result was pancakes topped with nice juicy strawberries and whipped cream, what a treat this morning. Made for the "Think Pink Event" in the Cooking with Friends Games.
Combine the flour, baking powder, and salt in a medium bowl. Stir with a whisk to blend.
In another bowl, whisk the milk, oil, vanilla, and egg together.
Stir the wet ingredients into the dry ingredients just until combined. Do not overmix.
Put a little oil on a griddle or large skillet and heat over medium-high heat.
Drop the batter by tablespoons onto the griddle or in the pan to form several small pancakes.
Cook until golden on each side (2 to 3 minutes).
Transfer the pancakes to plates.
Top the pancakes with a few strawberries and some whipped cream.