Pancakes (Crepes) Filled With Spinach (Filling Only)
chia2160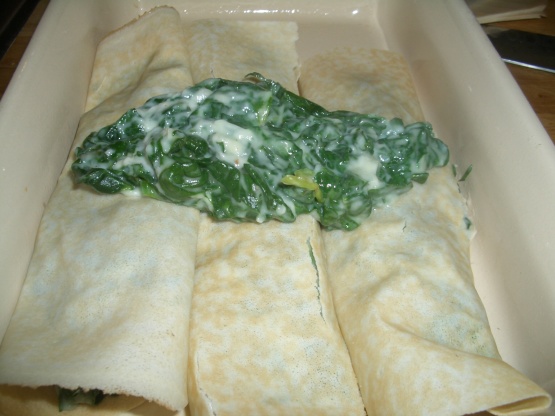 Great crepes with spinach from French cooking by Eileen Reece.

so simple and yet so elegant and delicious thank you for this 5 star dish — Dec 12, 2002. updating my review, we chose this recipe for the crepe cook-along in the french forum yesterday. it is still delicious and is the classic way to make a great crepe filling!
Press the cooked spinach, chop finely and toss over a medium heat for 2 or 3 minutes until dry in 1 oz butter.
Add the seasoning and a pinch of nutmeg.
In a second pan, melt the remaining butter, work in the flour, add milk, and cook until thick, stirring briskly.
Add the spinach and simmer for 5 minutes.
Remove from the heat and beat in two thirds of the cheese, correct the seasoning, put a tablespoon of filling centrally on each pancake, roll up and place in a buttered ovenproof dish.
Cover with remaining sauce, sprinkle with remaining cheese, reheat and brown under a hot grill.