Pan-Seared Chicken With Mustard Sauce
Sara 76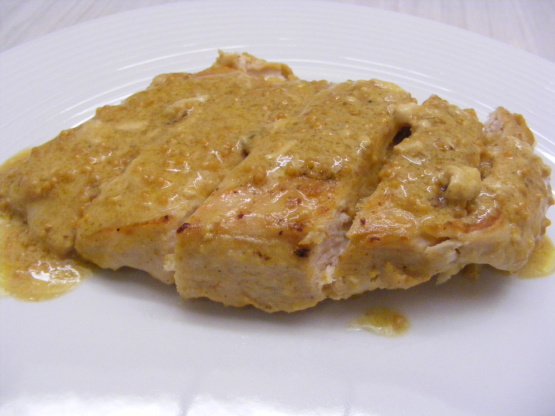 A delicious recipe DH and I tried from Williams-Sonoma, which is perfect for a busy night, as there is virtually no prep! The mustard cream sauce is very flavorful.

YUM! The kids and I really loved this, and I plan on making it again so hubby can try it - I'm sure it's something he will love too. The flavours were amazing! I only drizzled about a tablespoon of the sauce over the chicken, and that, along with the sauce it was already coated with, was enough. The leftovers were great on a toasted sandwich with Swiss cheese the next day! Made for ZWT7 - Switzerland (Vivacious Violets)
Place chicken between 2 sheets of waxed paper. Using meat mallet, lightly pound chicken until it is 1/2 inch thick. Season generously with salt and pepper.
In a large fry pan over medium-high heat, melt butter. Add chicken breasts, and cook, turning once, until golden on both sides and opaque throughout, 8-10 minutes total. Transfer chicken to a separate plate.
Keep the pan on medium-high heat, and stir mustard seeds into the pan drippings. Cook, stirring for about 15 seconds. Add the wine and broth and bring to a simmer.
Reduce heat to medium and cook, stirring until slightly reduced, 1-2 minutes.
Stir in cream and mustard and cook for 1 minute to blend the flavors.
Return chicken breast halves and any accumulated juices to the pan, reduce heat to medium, and simmer for about 1 minute. Season with salt and pepper.
Slice the chicken and divide among dinner plates. Drizzle with sauce and serve immediately.