Sageca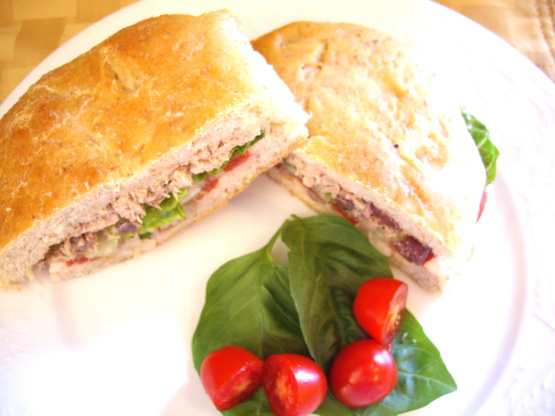 Here's a traditional French sadwich from "Real Simple, Meals Made Easy" by Reneee Schettler. This certainly brings canned tuna into the realm of "gourmet".

Nice sandwich. I used fresh tuna only cuz I had some which I love, but canned would work just as well. I did use red leaf I like it better than green leaf, but still of a soft green lettuce. nice simple flavors. And capers, what could be bad that has capers in it. NOTHING. I love them. Nice sandwich! Enjoyed as did my co workers. Make 2 big baguettes.
Halve the baguette lengthwise, then cut it crosswise into 4 portions.
Remove some of the light, fluffy bread from the center and reserve for another use (such as bread crumbs).
In a medium bowl, combine the tuna, salt, pepper, lemon juice, and 1 Tablespoon of the oil.
Place a few lettuce leaves on both halves of each baguette portion.
top the bottom halves with the tuna mixture, tomatoes, onion, olives, basil and capers (if using).
Drizzle with the remaining oil.
Cover with the top half of each baguette portion and press gently but firmly.
Enjoy or wrap and tote to your favorite outdoor activity.