Oven-Fried Chicken from Marcia Adams
lazyme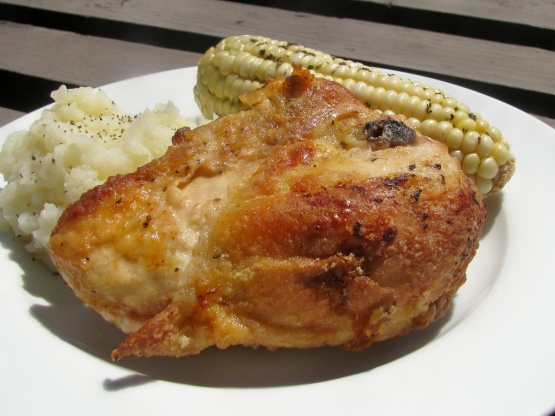 From Marcia Adams' Cooking From Quilt Country. This is an excellent oven baked fried chicken; nicely seasoned, easy and takes you back to when you didn't care about fat content, calories or protein counts. The drippings make for very yummy gravy, too!

OMG this was excellent and went so well with our salad tonight. I used 2 boneless chicken breast and decreased the oil and butter by 1/2. I made the full amount of the flour mixture using the garlic powder in place of the garlic salt and left out the marjoram as the option. I had just a little flour mixture left over. I cut the chicken breast into strips, baked them as stated, but did turn them over after 35 minutes and cooked them an additional 10 minutes. Crisp and so flavorful. Salad consisted of romain lettuce, zucchine, tomatoes, red onion, bacon chips, orange and red peppers. I used Newman Oil and Vinegar and DH used Ranch with Bacon dressing. Juse excellent and certain to make it to our table over and over. Made for Spring 2012 PAC
Place the oil and butter in a shallow cooking pan (I use a sided cookie sheet or the broiler pan) and put in preheated 375 degree oven to melt. Set aside.
In large bowl or plastic bag, combine flour and seasonings. Mix well.
Roll the chicken pieces, a few at a time, in the oil/butter mixture and then drudge in flour mixture.
Place coated chicken pieces into pan, skin side down.
Bake at 375 for 45 minutes. Turn over the chicken pieces and bake for another 5-10 minutes or until top crust is bubbly.
Serve hot or cold.