CarolAT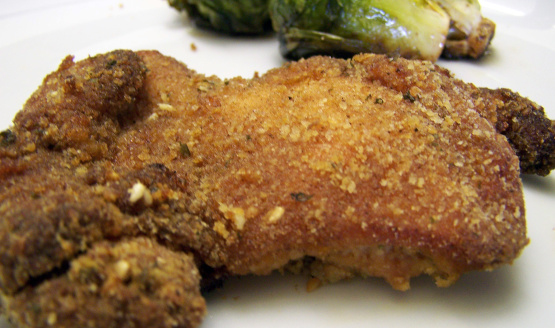 This recipe comes from a "Cooking for Two" recipe book my step mom has. It is definately not like traditional fried chicken, but is worth trying. It is so good and has been one of my favorites for years! The wheat germ as a delicately flavored sweet-nutty crunch and is a good source of vitamin E. I like to use sesame oil instead of vegetable oil and sometimes I use Italian bread crumbs instead of plain.

This chicken was a nice change from the traditional fried chicken. It had an interesting oriental flavor because of the soy sauce marinade. I used boneless, skinless chicken thighs, and the chicken was very juicy. Thanks for posting your recipe. Adopted for PAC April 2008.
Combine soy sauce, oil, and garlic in a gallon-size resealable bag. Add chicken, squeeze out excess air, zip, and turn a few times to coat chicken with marinade. Marinate at least 10 minutes.
Meanwhile, in another large resealable bag, mix together wheat germ, bread crumbs, sesame seed, chopped parsley, pepper, and paprika.
Take chicken a piece at a time, out of the marinade and coat with bread crumb mixture. Arrange chicken on a greased baking sheet or shallow pan and bake, uncovered, in a 350 degree oven for about 1 hour or until thigh meat near bone is no longer pink.