Oven Cooked Bacon With Black Pepper and Brown Sugar
A Good Thing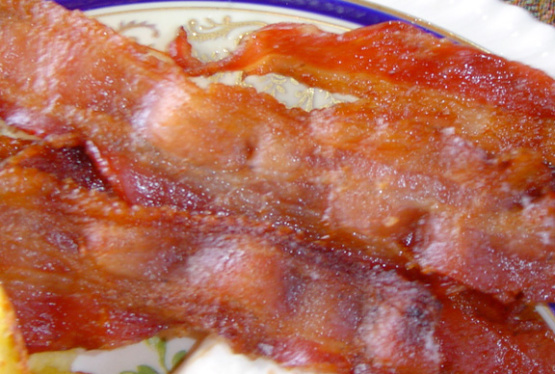 Nice and smokey, spicy and easy clean up. If you like it sweet try some brown sugar sprinkled on it too.

I love cooking all my bacon for the week this way. Then I put it in the fridge and microwave it when needed or throw it in quiches. Such a low mess way to make bacon perfect.
1

lb lean bacon (applewood-smoked bacon, hickey smoked)
1⁄2-2 teaspoon black pepper (optional)
1⁄4 teaspoon powdered chipotle pepper (optional)

2

teaspoons brown sugar (optional)
Line a cookie sheet with parchment paper.
Preheat oven to 400 degrees Fahrenheit.
Lay bacon on paper.
Sprinkle bacon generously with optional black pepper, chiptole pepper and brown sugar.
Bake 10 minutes then drain fat from pan.
Bake 5 more minutes or until it's as crisp as you like.