Swirling F.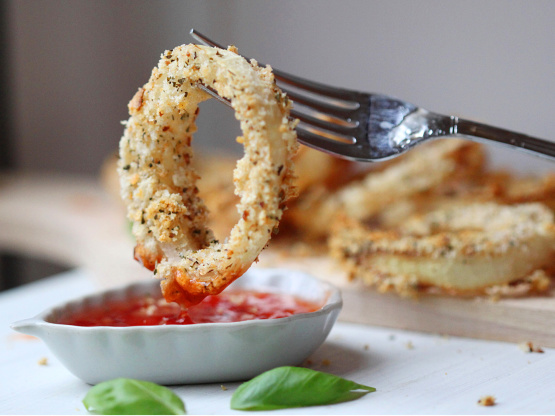 I love onion rings but try to stay away from deep fried foods. These are exceptionally good. This recipe serves 4 but I'll bet 2 can go through the lot of them. This is not my original recipe and I can't remember who to give credit to, but thanks to someone. enjoy!Try using Panko Crumbs- Don't worry if they are not completed coate the crunch will still be there

I was apprehensive about trying these as I thought I'd be too used to deep-fried. These were great! Next time, I'm going to try adding a bit of cornmeal with the crumbs.
Preheat oven to 350 degrees.
Spray a cookie sheet with lite olive oil or other veggie oil.
Mix bread crumbs, oregano & cayenne (mix these ingredients on a sheet of wax paper it will make the next step easier).
Dip onion rings into the milk and allow the excess to drip back into the bowl.
Dip into the crumb mixture.
They won't be fully coated, don't worry they will still have a crunch (especially with Panko crumbs).
Place onion rings in a single layer on the cookie sheet.
Bake onion rings until the crumbs are golden and the onions are soft (approx 30 minutes).
Sprinkle with salt & pepper and then serve.