Ospidillo Cafe Spaghetti Sauce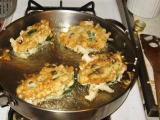 It doesn't get more simple than this -- a commercial type spaghetti sauce that you can also use for lasagna. I recommend using a large, heavy-bottomed cooking pot because this recipe makes a lot of sauce and it has to simmer for three hours. Short of traveling to Italy, you won't find many sauces that taste better. I typically use whatever I what I need when I make up a batch and freeze the rest in zip-lock bags.
Directions
Combine all ingredients and simmer over a slow boil for three hours. Remove bay leaves before serving.
Most Helpful
This was good but was very sweet. I would ease up on the sugar next time and add in some basil.

I made this sauce for my first OAMC session and I loved it. It had just the right amount of kick and was very easy to make. I'd like to try making it with fresh tomatoes instead of sauce and paste next time.
Fantastic!!! I made this and froze in 3 batches. We had the first batch tonite for dinner. I loved the slightly sweet taste! I added some meatballs that I had made ahead. The only thing I adjusted was slightly less on the chili powder. Good job!