Ospidillo Cafe Spaghetti Sauce
Pamela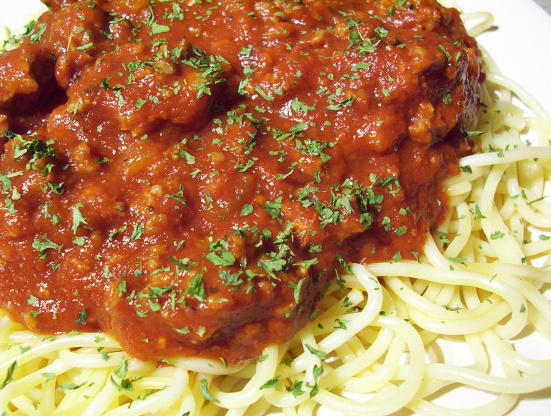 It doesn't get more simple than this -- a commercial type spaghetti sauce that you can also use for lasagna. I recommend using a large, heavy-bottomed cooking pot because this recipe makes a lot of sauce and it has to simmer for three hours. Short of traveling to Italy, you won't find many sauces that taste better. I typically use whatever I what I need when I make up a batch and freeze the rest in zip-lock bags.

Wow! This is a super basic recipe for spaghetti sauce! I added some basil and backed off on the chili powder, also was out of bay leaves. I also threw in some mushrooms, olives and chopped green bell peppers. The cider vinegar is BRILLIANT. The ground chuck gave it a wonderful flavor. I can't tell you how many different recipes I've tried looking for the perfect sauce- and now I've found it. Thanks for a great, flexible recipe. I love that the great, meaty flavor isn't just from throwing in a bunch of spices; it gives us a lot of room to make it our own. WONDERFUL!
Combine all ingredients and simmer over a slow boil for three hours. Remove bay leaves before serving.