Oriental Chicken Vegetable Soup
Prep 10 mins
Cook 10 mins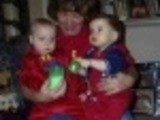 This is a VERY QUICK, simple recipe, yet very tasty! Makes a wonderful meal with a salad and bread. I believe this recipe was put out by Campbell Soup.
1⁄4 cup sliced green onion (diagonally)
1⁄2 cup sliced celery (diagonally)
1⁄4 teaspoon ground ginger
1 (10 3/4 ounce) can condensed chicken noodle soup
1 (10 3/4 ounce) can condensed chicken with rice soup
3 1⁄2 cups water
1 1⁄2 cups cubed cooked chicken
1 (10 ounce) packageof frozen mixed vegetables
4 teaspoons soy sauce
1⁄4 teaspoon salt
pepper, to taste
Directions
In large sauce pan, cook onions and celery with ginger in butter until tender.
Add remaining ingredients.
Simmer about 10 minutes.
Stir often.
Most Helpful
I had made Derf's recipe for an Asian Chicken soup in the past and it was a hit with my children, so I knew the overall taste would be fine (ginger and soy sauce), Next time I would remove the mixed vegetables and the chicken 'n rice soup, and instead add another can of chicken noodle and snow peas.
This soup is outstanding! Cannot believe the taste so homemade even adding to cans of soup. We all loved it here and will definitely be put in tomake again cookbook. Thanks Trisha W

Easy and good. I used two cans of chunk white chicken and did not add the salt as the soy sauce and condensed soups have plenty.