Julie F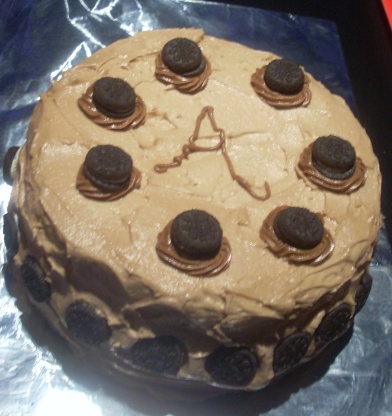 From an online recipe in response to a recipe request

This is my first review despite trying hundreds of recipes on this site. This cake is amazing. It is one of the most labor intensive desserts I've ever made, but it was worth it. I wanted to make my step-daughter something special for her birthday. I found this recipe while thinking about the fact that she loves Oreos. This cake was unbelievable - extremely rich, but sooooo good!
Preheat oven to 350.
For the crust: Grease two 9" round cake pans and dust with cocoa.
Crush oreos and combine with butter.
Pat into one of the pans.
Bake 5 minutes.
Set both pans aside.
For the cake: Combine Oreo crumbs, flour, baking powder, and baking soda.
Set aside Cream butter and sugar.
Add egg yolks, sour cream, melted chocolate and vanilla.
Add the water and stir till blended.
Beat at medium speed for one minute.
Whip egg whites to soft peak.
Fold into batter by hand.
Divide batter into the two prepared pans (one has a cookie crust and one doesn't) Bake at 350 or until top springs back (15-25 minutes) The pan with the cookie bottom takes approximately 5 minutes longer.
Remove the cakes from the pans and refrigerate.
For the filling: Combine all ingredients and beat until of spreading consistency Place the cake layer with the cookie crust on a plate.
Spread filling, reserving some for garnish.
Top with the other cake.
For the frosting: Beat the frosting ingredients together until of spreading consistency Frost the cake.
For the garnish: Press additional crushed oreos on sides of cake.
Pipe reserved filling on top in little clouds Press a quarter Oreo (or a mini Oreo) into each puff.