Orecchiette With Pesto, Broad Beans and Italian Sausage
Satyne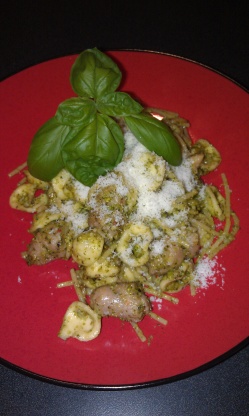 This dish is quick, nutritious and with delicious mild flavors.

Top Review by Satyne
I enjoyed this very much, however we did find the instructions a little hard to follow (have submitted corrections, hope they help) and it did seem a little dry at the end (I did not want to add more oil due to the oil content of the pesto - Recipe #337429 ) we are looking forward to making this again, but probably adding a little extra liquid in the form of pasta water or vegetable stock. Made for PAC Spring 2013, Thanks for a lovely dinner.
First, add the broad beans to salted boiling water and cook them until tender. Drain them and remove the outer greyish skin. While the beans are draining, add the orecchiette to salted boiling water as well and cook them al dente, as per package. Take them out and drain them.
Cook the onion and the sausage, stirring, until the onion changes color. Add the garlic and cook for few seconds. Mix in the pasta, the broad beans and the pesto and toss to coat everything in everything.
This dish is abundant in great mild flavors so there is no need to add much else. Serve with some grated Pecorino cheese, a splash of olive oil and generous amounts of freshly ground black pepper.