Orange Yogurt Muffins Diabetic
CoffeeB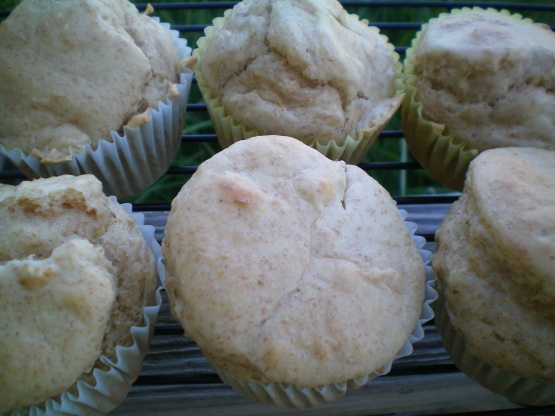 This is a recipe that I have trimmed and made as low fat and sugar free as possible. It will make 8 standard muffins.

The name says it all here as this is a defnite yummy recipe for diabetics. Not a sweet muffin in the least and since I'm not a diabetic, I will increase the amount of splenda next time. I also felt the orange zest didn't come thru real strongly. Maybe if a bit of o.j. was added for the liquid part the orange would shine thru. I also used 1 full egg. Very moist. Thanks Annacia for a lovely breakfast treat~
Preheat oven to 350°F (180°C). Place paper baking cups in muffin pan or coat with vegetable cooking spray.
Combine flour, baking powder, baking soda and salt; set aside.
Beat eggs and Splenda at high speed with an electric mixer for 5 minutes. Add oil, yogurt, vanilla, and orange zest; beat at medium speed until blended, about 1 minute.
Add dry ingredients to wet mixture and beat at low speed until blended.
Spoon mixture into prepared muffin pan; filling 3/4 full.
Bake for 15 minutes or until cake tester inserted in centre comes out clean.
Remove muffins from pan immediately and cool on wire rack.