Orange and Almond Cake (Gluten Free)
Jubes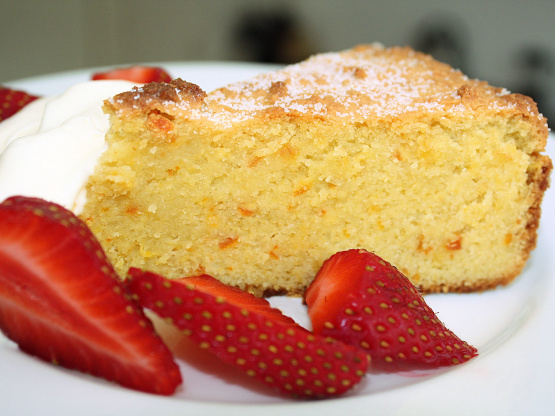 Very easy to make,your kids will love it and its gluten free.I got the receipe watching a cooking show on tv.I believe it to be jewish.I have made a few changes.

WOW! This cake is DEVINE! I do not eat gluten free but a coworker of mine (whose baby shower cake I made) has celiac disease and she just raved about it. The other gueste also loved it! Thanks for the recipe!
Place orange (unpeeled)in boiling water for 2 hours.Remove and allow to cool.This can be done ahead of time.
Preheat oven to 180c.
Break eggs into a blender.add caster sugar and blend together.
Cut up orange (unpeeled) and place into egg mix,and blend together to a smooth consistency.
Add the almond meal and baking powder and blend.
Grease baking pan and dust with caster sugar.
Pour batter into the pan and sprinkle caster sugar on top and bake for 1 hour or until top is golden brown.
Dust with icing sugar to serve.(you can also have it with cream).