Dasha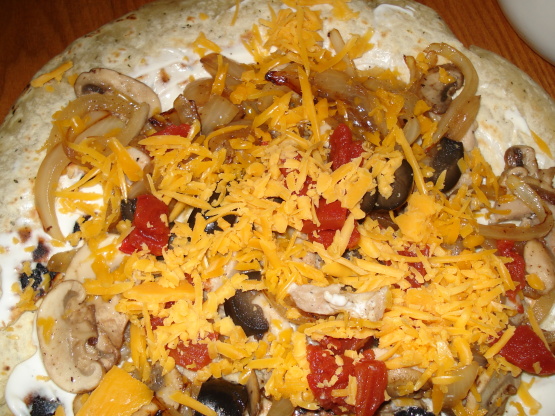 Who needs pizza?! Get ready to get your taste buds soaring and your fingers dirty. Simple recipe for beginners and the pros.
Fry chicken slices in some oil on med/high with garlic, salt and pepper till completely done.
Set chicken aside in a covered dish.
Use the same pan to saute onions till completely caramelized.
Add mushrooms and saute with onions for just a few minutes. Set onion/mushrooms aside in a covered dish (to keep warm).
Lightly oil each side of tortilla and heat up on the large pan.
Place each tortilla on a large plate.
Spread sour cream onto each tortilla, top with chicken, onions, tomatoes, olives and lastly with cheddar cheese.
Enjoy!