Pamela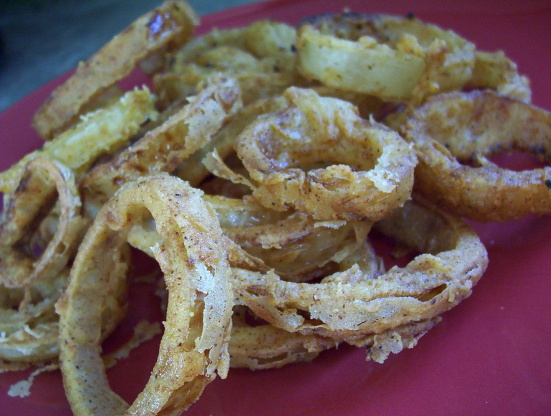 Great with a barbecued steak and a cold beer. These rings are spicy!

Top Review by Pamela
I was looking for an onion ring recipe without eggs and I found this one. I had a bit of trouble at first getting the batter to stick on the rings but I think my oil was not hot enough at first. I thought these were pretty good but I prefer a fluffier batter on my onion rings. I served this with French Fry Sauce recipe#67023 for a special treat!
Place buttermilk in large bowl; add onion rings and toss to coat; let stand at room temperature 20 minutes and up to 1 hour, turning onions occasionally.
Pour enough oil in large saucepan to reach depth of 3 inches; heat to 350°F.
Mix all remaining ingredients in large bowl; remove 1 handful of onion rings from buttermilk; add to flour mixture and toss to coat; add onion rings to oil; cook until crisp and golden brown, about 2 minutes; using tongs, transfer to paper towels to drain; repeat with remaining rings in batches; mound in bowl and serve.
Note: You could use the lightly onion-scented buttermilk to make up a batch of really tasty corn bread!