One-Pan Chicken and Potatoes Weeknight Meal
Babycat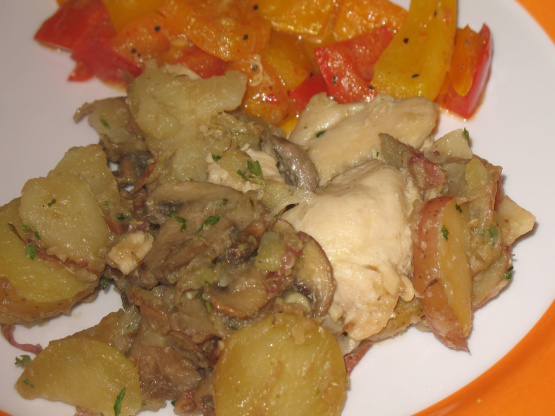 For the meat and potato lover in your home, try this simple meal in a skillet. Delicious, satisfying and perfect for the hurried cook and hungry family.

Although this meal was easy to make, I thought the directions could use some improvements. First, although I cooked everything together, I found that the chicken finished way before the potatoes. As a result, I ended up taking the chicken out and continued to cook the potatoes for another 10 to 15 minutes. Also, I thought it needed more seasoning so I ended up adding 1 tsp thyme and 1 tsp rosemary.
Heat oil in a large, heavy-bottomed non-stick skillet over a medium flame.
Add potatoes, onion, mushrooms, and chicken to the skillet. Sprinkle with garlic and onion powders. Add salt.
Cook 15 to 20 minutes, stirring frequently, until the chicken is no longer pink in the center and the potatoes are tender.
Sprinkle with parsley; serve family-style -- STRAIGHT FROM THE SKILLET!
Serve with a dish of steamed green vegetables or a tossed green salad.