Omelet With Fresh Fruit Compote
Bergy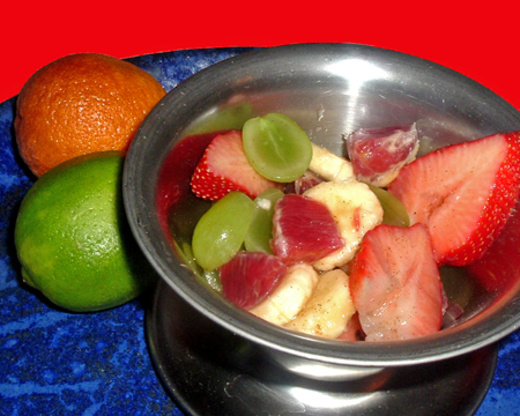 This is a light refereshing omelet complimented with freesh fruit. You may change the fruit to whatever is in season - make it tropical or have an all an berry compote. If you do not wish to marinate in wine use apple juice. I like to cook two separate omeletes - I think they look nicer on the plate. If you wish to do this just pour half of the egg mixture in one pan and the rest in another -then follow the recipe. I do recommend sprinkling on the Grand Marnier.
Prepare the fruit, mix together, sprinkle with cinnamon and pour in the wine, mix.
Refrigerate for a minimum of 30 minutes or up to 2 hours.
Beat your omelet ingredients together, (eggs, flour, sourcream & milk) and 10 minutes before serving pour the egg mixture into a large non stick or lightly greased fry pan.
Cover, lift the edges and let the egg run under the cooked areas, cook for apprx 5 minutes .
It will be golden on the bottom and just cooked on top.
Drain the wine from the fruit (sip it, the cook deserves a reward).
Place a few spoonfuls of fruit on half the omelet, drizzle with the honey, fold over, cut in half and remove to two warm plates.
Spoon remaining fruit over top, sprinkle with pecans .
Sprinkle with Grand Marnier and serve.