This is my 8 year olds favorite breakfast.
Directions
In a microwave-safe mug coated with cooking spray, combine all ingredients.
Microwave, uncovered, on high for 30-40 seconds and stir.
Cook 30-60 seconds longer or until eggs are completely set.
Enjoy!
Reviews
Most Helpful
Great for breakfast on the go! I love traditional omelets, but I've never been good at actually getting them out of the pan, so making them in a mug and just tipping it out onto the plate is much better for clumsy me! Really nice and fluffy and loved the additions.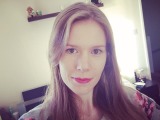 My girls really enjoyed this. Hubby grabbed his and was out the door. Mine was cold and somewhat firm by the time I got to eat it. :( I made this in 4 separate mugs so that we could each have ours with the ingredients and seasonings we prefer. We had our bacon separate because it wasn't ready yet when we were, but I'd really like to try this with bacon. (Maybe tomorrow with today's leftover bacon!) We didn't have green peppers in the house, but my husband and I had a little diced onion in ours. Onions end up a little strong in this, but still tasty. Cooking 4 of these in my old microwave was a challenge. I think I'll pop each in individually next time, because my micro does not rotate the food, and it cooks very unevenly. (Can't wait until we can remodel our kitchen and replace it!) I'll definitely take the carryover cooking time that's usually mentioned in micro recipes into account next time. In a hot mug, the eggs continue to cook and set, so a little less cooking time and letting this stand 5 minutes before eating should result in perfect eggs! Thanks for a quick way for all of us to get a hot breakfast in the morning! We served with Parsley's Apple Cinnamon Muffins and orange juice. 4 yr old rides the bus for an HOUR--this is a great way to fill her up early in the morning!

I took Pat's advice and cooked mine in shorter bursts - it was cooked after the fourth short 20 second burst! I left it in the mug to continue cooking and it was ready to eat after about a minute. A great idea - must be wonderful for busy mums before school in the morning! Mine was not as fluffy as I expected either, but is IS difficult to get that light and fluffy texture when you cook in the microwave. A wonderful idea and great recipe nevertheless! No photos sorry, it did not look very attractive - but tasted delicious - great combo of cheese and cooked bacon bits! Made for the Aussie and NZ recipe Swap #19 - thanks for being such a great teammie!! FT:-)