Bergy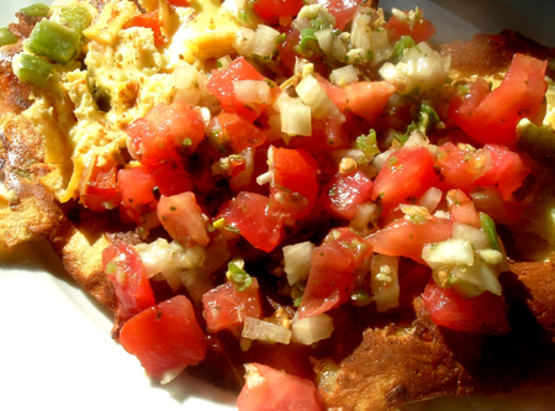 I love eggs in any form. I'm especially fond of omelets and love to play with them. I've been putzing around with this one, it seems like forever. I must like it or I would have given up on it years ago. The times are a guess.

Top Review by Bergy
Great almost Mexie omelet. I took your advice and used Nurse Di's salsa recipe - perfect with it. Corn tortillas were excellent in it - I crisped them a bit adding them to the onions & peppers before adding the eggs. I cut the recipe back to a 2 egg omelet with no problem. Thanks Pierre for a lovely Sundau Brunch
1⁄2 cup shredded or chopped cooked beef or 1⁄2 cup pork or 1⁄2 cup chicken or 1⁄2 cup turkey or 1⁄2 cup ham or 1⁄2 cup bacon or 1⁄2 cup sausage (Breakfast or Italian, sweet or hot, Bratwurst, Andouille, Polish, Smoked, you get the idea)

2

tablespoons oil
1⁄3 cup red bell pepper, finely chopped
1⁄3 cup green bell pepper, finely chopped
1⁄2 cup onion, finely chopped (Yellow, White,or Sweet all work well)

4

large eggs
1⁄4 teaspoon cayenne
salt & freshly ground black pepper, to taste

1

burrito-size flour tortillas or 2 small tortillas
fresh salsa (NurseDi's Chilean Salsa #63836 is outstanding)
Prep everything.
Heat large frying pan over medium high heat, Add oil.
Saute (stir fry) Peppers and Onions'til onions are translucient.
Beat the Eggs with the Cayenne.
Season with salt and pepper to taste.
Add the meat, mix well.
Shred the tortilla (s) into fingernail sized pieces.
Add to eggs mixture, mix well.
Spread peppers and onions evenly in pan.
Pour the egg mixture into pan, spread evenly.
Brown one side, turn, but do not fold, brown the other.
Serve with Salsa Fresca and/or anything else you might like.
Sour Cream, Queso Fresca, or Guacamole come to mind.