Baby Kato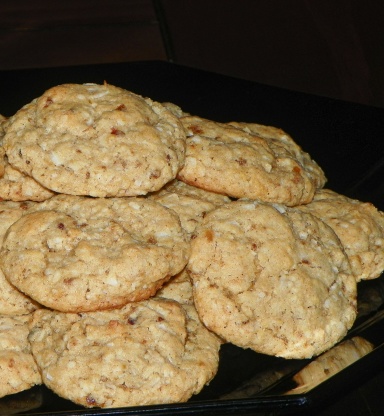 I made these for DH and he says 5 stars all the way. The recipe is very quickly made and yields very flaky/crisp edge with a softer center. Be sure to keep a watch on them as mine were well browned in 10 mins and wouldn't have tolerated another 2 mins. Also, be sure to allow plenty of room between cookies because these little fellows spread like South Fork!. I made a 1/2 recipe but I should have made the full one, DH was just in the kitchen cookienapping as I'm typing this review *wink*.
Cream shortening; gradually add the sugar, beating well. Add eggs and vanilla; beat well.
Combine flour, salt and soda. Add to creamed mixture, mixing well. Stir in the uncooked oats and chopped dates.
Drop dough by rounded teaspoonfuls onto lightly greased cookie sheets. Bake at 350 degrees for 10 to 12 minutes (centers will be slightly soft). Remove from cookie sheets while still warm; complete cooling on wire racks.