This is my breakfast every morning! quick, easy, yummy, and healthy. =]
Directions
combine oats, splenda, vanilla, and cinnamon in a bowl. (allow for expansion while cooking).
pour water over oat mixture and stir slightly.
microwave on high for 2 1/2 minutes. cooking times will vary depending on type of oatmeal so make sure you check the back of the packaging.
you can add more or less water depending on the consistancy you like your oatmeal.
enjoy!
Most Helpful
Very good, simple oatmeal. The only change I made was to use Stevia instead of Splenda. Thanks!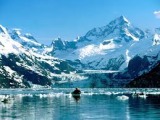 Mmm, really good for a cold fall morning. The only thing I changed was that I used fat free milk. I will be making this one of my "oatmeal rotation recipes." :)

Great! Super easy!! I used sugar, so it probably wasn't as healthy, but it sure was tasty! I used plain rolled oats and milk (instead of water). I usually double this recipe and nuke it all together, but I have this problem with the milk overflowing and leaving me with beautiful oatmeal, both in the bowl AND on the floor of the microwave. I'm still working on that problem, but I'm definitely not giving up!!