Nuernberger Elisenlebkuchen
Linky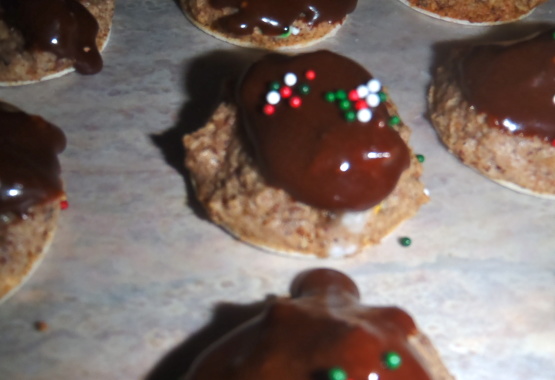 There are many different recipes for elisenlebkuchen, but as far as I know this one is the original. I found it in my late oncle's handwritten book - he was supposed to inherit my grandfather's confection shop and cafe but died at the age of 18, just after having finished confectionary school. These lebkuchen usually are made with thin wafers like communion wafers but since being gluten free I make them without and it works well, too. For more taste, I prefer brown sugar, but originally it is just plain sugar. Depending on the size of your eggs, you might need some more ground hazelnuts. The batter should have a smooth spreading consistency, so if it's too thin, just add some more ground nuts until desired consistency is reached. Personally, I use only half the sugar, but that's presonal preference. They are glazed with light and dark icing but of course you can only use one of them instead of both.

Top Review by Linky
Yum! I've been making these for years with my mom's recipe that is almost identical to Mia's. However, I never knew how to do the chocolate glaze. Now I do - danke!<br/>made for Sweet December 2014<br/>ps I used Oblaten, since I had them and no one here needs to be gluten free.
Preheat oven to 300 F or 150 C and grease cookie sheet. If you have a silicon cookie sheet, this works best.
Cream together eggs and sugar at high speed until you have a thick yellow cream. This will take some time, but don't stop beating before the mixture is really thick and creamy!
Mix in spices, rum, vanilla and candied peel, then fold in ground almonds, nuts and baking powder.
Drop heaped teaspoons full of batter onto greased cookie sheet and flatten slightly.
Bake at 300 degrees 25 - 35 minutes.
For the light glaze stir together 3 1/2 ounces powdered sugar with just as much hot water that you get a thick creamy icing.
For the dark glaze stir together 3 1/2 ounces powdered sugar with the cocoa powder, melt the coconut oil and mix with sugar and cocoa, add just enough hot water to have a smooth thick creamy icing.
Immediately after removing the cookies from the oven glaze half of them with light and half with dark icing.
Let cool completely and store in airtight container in a cool place.