Northwest Grilled Flank Steak
Hey Jude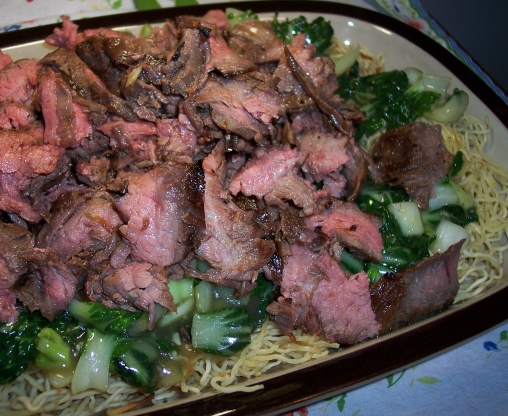 This savory flank steak marinade with soy sauce, garlic, sesame, and ginger makes for a good week night dinner because the flank steak is marinated ahead of time, marinate 4 hours to 2 days. Serve with a simple green salad and grilled vegetables. The recipe comes from Sunset.
This was a very good. We all liked it. The flavor was a little milder than we expected, but it was very tasty. It was reminiscent of some Korean marinades I've used, but without the chilis and with olive oil instead of sesame oil. Thanks for sharing this recipe, Barb!
Rinse flank steak and pat dry; In a 1-gallon zip lock bag or large bowl, mix the soy sauce, olive oil, brown sugar, green onions, sesame seeds, garlic, pepper, and ginger; Add the steak, seal bag or cover bowl tightly, and chill, turning occasionally, at least 4 hours or up to 2 days.
Lift steak from the bag and let drain briefly.
Place meat on a grill over a solid bed of medium-hot coals or medium-high heat on gas grill (you can hold your hand at grill level only 3 to 4 seconds); close lid on gas grill.
Cook steak, turning occasionally to brown evenly, for medium-rare, 9 to 12 minutes, (still pink in center),Transfer steak to a platter and let stand 10 minutes, cut meat across grain into thin slanting slices,.