No Dough Meat Crust Pizza for the Low Carb Dieter
Pamela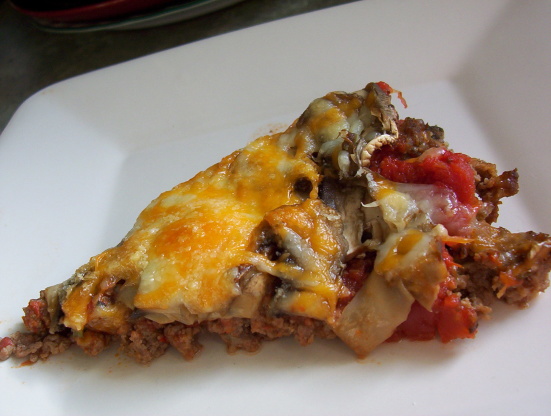 Tastes like a pizza, cuts like a pizza, yet there is no dough....though do have a fork and knife on hand for eating purposes because it can get a little messy if eaten with hands only. I am a South Beach dieter with a love for Italian foods and this is what curbs my craving for pizza. I love mine with the turkey pepperoni slices, onion, green peppers and mushroom. Serve with a tossed salad or marinated veggies.

This was great! I cooked in a pie plate. I sprinkled parmesan cheese under the meat to keep it together. I also cooked onion and garlic with the meat. Even my picky eater loved it!
Preheat oven to 350 degrees.
Meanwhile, brown the ground beef; drain.
Place meat in a mixing bowl and mix with 1 cup of mozzarella.
Spread the mixture into a circle on a round pizza pan or baking stone (I prefer the stone); and top with 1/2 cup pizza sauce.
Top with the rest of the mozzarella, optional toppings and seasonings.
Bake for about 25 minutes or until cheese is melted and browned.