No-Cook Fresh Tomato Salsa (Fat-Free)
Tracy S.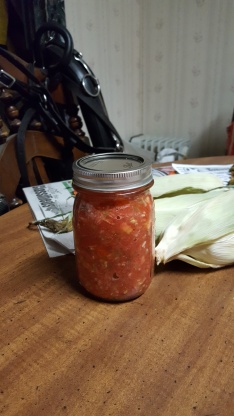 This will put any store-bought salsa to shame lol! This is a must using just-picked garden tomatoes and it is a fat-free recipe! Plan ahead this must be refrigerated a minimum of 8 hours even better 24 hours to blend flavors, don't even think about serving this before the chilling time! The tomatoes must be ripe and red for this and will need to be drained for a couple of hours over a strainer before using for this recipe. If you prefer a milder salsa then omit the jalapeno pepper. This complete recipe may be doubled. Don't omit the cilantro it is what makes the salsa! If desired you may use canned Mexican diced tomatoes drained in place of the fresh tomatoes, but the fresh is much better! Prep time includes chilling time.
Place the chopped seeded tomatoes over a strainer and allow to drain for 1-2 hours (or up to 24 hours).
Place the tomatoes, onions, green bell pepper, yellow bell pepper (if using) and cilantro in a processor; pulse until desired consistency.
Place into a glass bowl then add in all remaining ingredients; mix to combine and season with salt and Tabasco to taste and add in a small amount of sugar if desired.
If desired you may add in the variations of you choice.
Refrigerate for a minimum of 8-24 hours before serving.