No Beans, No Tomatoes, No Foolin' Chili
Mika G.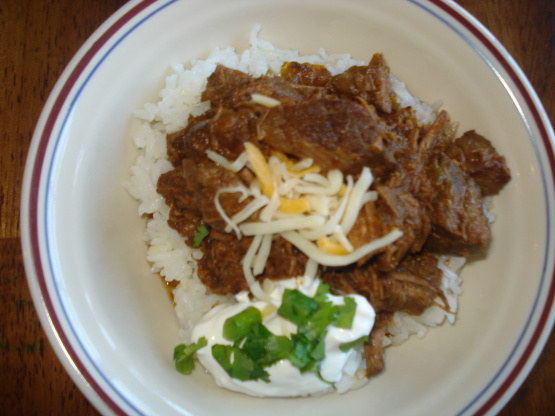 I am one who wouldn't know what to do if my chili didn't have beans in it. Keeping an open mind, I tried this and thought it was excellent. Sometimes, you can teach an old dog a few new tricks.

Top Review by megs_
DH hates beans, hates tomatoes, but LOVES chili - so this recipe of course caught my eye. In all the cooking I've done, I've never cooked a cut of beef other than ground, so this was a new experience. I used extra lean stew meat, which worked great. We don't drink a lot of alcohol, so I didn't have any on hand so I used chicken broth that I added 1 tbsp of liquid smoke and 2 tbsp of wors. sauce to. I also omitted the peppers and cooked the beef with the onions and garlic. The flavor was out of this world! The best chili we've ever had, by far. We enjoyed it as we watched kickoff for the Dallas Cowboys game. :) Thanks for sharing!
In a big skillet, heat 2 tablespoons oil over medium-high heat.
Add in the beef (in batches, if necessary); cook, turning often and adding more oil if needed, until meat is browned on all sides.
Transfer to a 4 quart slow cooker.
Add the remaining oil to the skillet; lower heat to medium.
Add in the onions, bell peppers, and jalapenos; stir/saute for about 7 minutes or until onions are softened.
Add in the chili powder, garlic, oregano, cumin, and salt; stir for 30 seconds.
Remove skillet from heat; add in beer; stir, scrapping up the browned bits on the bottom of the skillet.
Pour the vegetable mixture into the slow cooker.
Cover and cook on LOW for 6-7 hours or until meat is tender.
Skim fat from the surface of the chili.
Thicken the chili by stirring in the cornmeal and cooking uncovered, for 15 more minutes.