"Never Weep" Whipped Cream
Food.com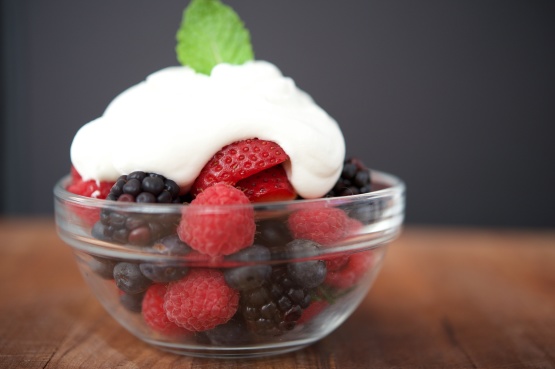 I don't know where I got this, but it works. The whipped cream will keep for a week in the fridge without deflating... great for party make-ahead.

This is absolutely amazing! I love the taste of real whipped cream and not the fake kind used by bakeries of grocery stores. However, whipped cream is normally impossible to decorate with but not with this recipe. I was able to decorate my daughter's baptism cake with it and even used the air brush technique and it took well. The cake sat on display at an indoor reception in August without deflating, weeping, melting, whatever. The clouds stayed puffy, the colors stayed put, and it tasted great still. Whipped cream always tastes better chilled so I actually made a second sheet cake to keep in the fridge and served that while I returned the decorated one back in the fridge. We actually ended up not having to serve that one but we sure did enjoy it later that day an it still looked beautiful after all that displaying and transferring. This will be my go-to whipped cream topping from now on!!! I did double the sugar because I wanted it hjust a tad sweeter and that ended up just right for me. THANKS for posting!
Whip all ingredients together until firm peaks form.
Cover leftovers tightly, preferably in an air-tight plastic container.
This stays the same consistency until used.
It will keep for a week in the fridge without deflating.