chia2160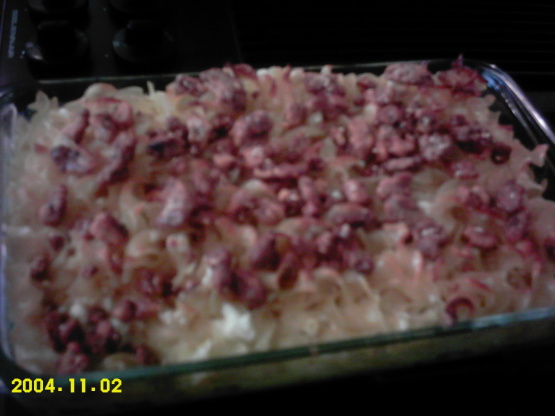 I have not made this, but had to share. Can you imagine a kugel topped with crumbled pralines?!? Yum, yum! This is adapted from Southern Living magazine, and they adapted it from "Kosher Southern Style Cookbook" by Mildred Covert. If you don't happen to have any leftover pralines lying around, you may used chopped candied pecans instead. Prep time includes cooking time for the noodles, as well as a 10 minute resting time for the baked casserole.
3

large eggs, lightly beaten

1

(8 ounce) package cream cheese or 1 (8 ounce) package neufchatel cheese, softened to room temperature
1⁄2 cup unsalted butter, melted
1⁄4 cup granulated sugar

1

teaspoon vanilla extract
1⁄8 teaspoon salt

1

(8 ounce) package wide egg noodles, cooked without salt or 1 (8 ounce) package fat, drained

4

pecan pralines, finely crumbled or 2 -3 tablespoons chopped candied pecans
Preheat oven to 350°F.
Mix together all ingredients excpet for the noodles and the pralines.
Stir in cooked noodles gently.
Pour into a greased 8 inch square casserole.
Bake for 35 minutes.
Sprinkle crumbled pralines on top and bake another 12 minutes.
Let stand 10 minutes, then cut into squares.