Natasha's Tomato, Avocado, Basil Salad

This salad is SO good and very refreshing. The dressing is fantastic!
Directions
Slice tomatoes into medium sized slices.
Slice mozzarella into medium sized slices (not too thin or too thick).
Cut avocados in half lengthwise, remove and discard pits, slice diagonally into medium sized slices, trying to keep them as the same size as the tomatoes and mozzarella slices.
Slice red onion very thinly sliced (if using).
On medium sized plate or platter, arrange tomatoes, avocados, onions, and mozzarella, shingle style - filling the outer rim of plate and working your way into the middle. Fit in a basil leaf on top of the mozzarella slices.
Lightly salt and sprinkle black pepper over the top to taste.
Drizzle with Fresh Basil Dressing to taste. Note that all of the dressing is not meant to be used. Reserve remainder for other use. (Great on sandwiches, salads, topping for some soups, etc.).
Decorate with more fresh basil leaves if desired.
Fresh Basil Dressing:.
Blend the basil, oil, mayonnaise, vinegar, shallots or onions, salt and pepper in a blender or food processor until smooth. Refrigerate until ready to use.
NOTE: If serving this salad for company, you may want to slice the avocado at the last minute because it browns easily. To prevent this from happening too quickly, you may sprinkle the avocado with lemon juice. But it's just as easy slicing the avocado at the last minute and fitting it under the tomato slices.
Reviews
Most Helpful
Absolutely delish! After seeing the photo, I knew I had to try this and boy, am I glad that I did. Made this beautiful and delicious side to go with our dinner tonight. Definitely Company worthy -- both for taste and presentation. Will definitely make this again! : )

I don't know why, but I really wasn't expecting a lot out of this recipe, since fresh mozzarella and avocado don't have very overt flavor. However, this was phenomenal! The dressing is fantastic (I used the white balsamic and shallots, and I have since used it in sandwiches, salads, etc.) and the simplicity of the dish really made it sing! I did not have red onion, so omitted that. Beautiful presentation, too! Thanks for sharing this sleeper keeper!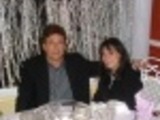 I scaled back for 1 serve and loved every element of the salad and the dressing, all came together beautifully and the flavours were clean and refreshing, thank you ForeverMama, made for Everyday A Holiday tag game.