Debbwl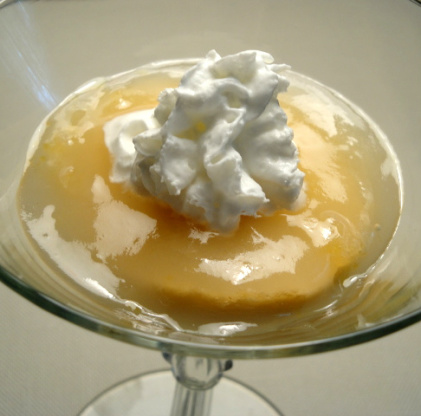 This is a recipe my mum used to make for us on winter nights - her mum made it for them so its almost a tradition! - Is wonderful with ice cream or cream and is easy enough for a weeknight family dessert but fancy enough for a dinner party dessert too!

Top Review by Debbwl
Yummy! A nice tender apple coated in a nice thick apple flavored sauce. Made using Splenda for baking in place of sugar and baked at 355 F for 45 minutes. Put in a nice dessert dish or a martini glass with just a dot of whipped cream and you have a very nice dessert. Will be making this tasty treat again. Thanks for the post.
grease a pie dish.
preheat oven
peel, core and halve apples across ways (so that they are circles of apple).
put apples cust side up in dish.
in seporate bowl rub butter into flour
add sugar and salt to this mixture then water.
mix lightly (it will be lumpy - thats ok!).
then pour over apples.
bake 35 minutes in a 180oC oven.
*For 6 apples double the liquid and sugar becomes 1 1/4 cup.