loof751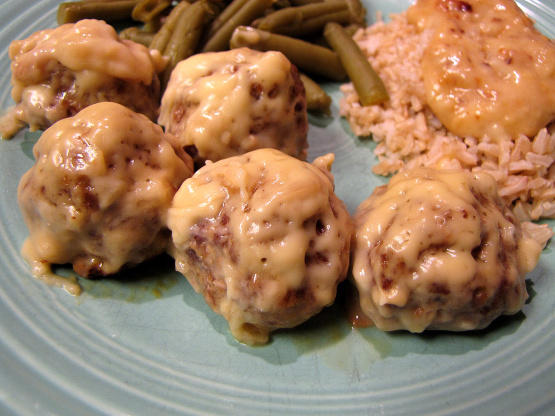 Made with cream of onion soup. These are wicked good; you bake these in oven. From Nadine Jensen, a great cook. For those of you that can't get and/or afford the soup, recipe #428484 makes a good substitute.

Wonderful recipe! I made half of the amount and used green onions instead of regular onions. I made them a little smaller so it only took about 20-25 minutes. I also completely forgot to add the milk! They still turned out great (though I'll remember to add it next time for that extra bit of moisture.) I didn't use creamed soup; instead, I made this with a tomato sauce and served it with pasta. Delicious. I'll definitely make this again. Thank you!
Mix the eggs, milk, bread, ground pork, salt, onion, oregano, chili powder, pepper, garlic powder, and Worcestershire sauce together.
Form golf ball size meatballs.
Brown meatballs in a 400 degree Fahrenheit oven for 30 minutes.
Drain excess fat.
Reduce heat to 350 degrees Fahrenheit.
Pour cream of onion soup over the meat balls.
Cover with foil.
Bake 10 more minutes until bubbly.