Juenessa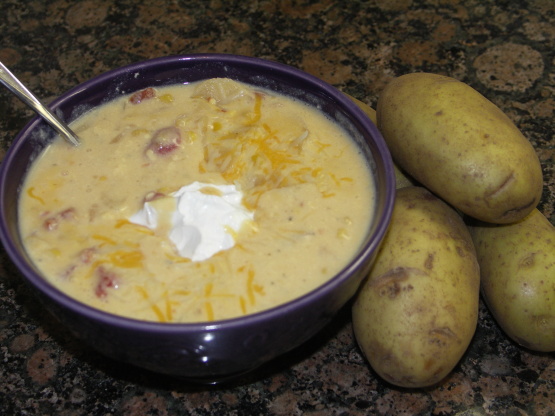 I don't know where I got this recipe, but have had it for several years. It is my husband's favorite soup and also very easy to make!

This soup was very quick and easy to prepare. My husband is learning to cook and thought this recipe would be a good one to try. He made this using the whole can of tomatoes and green chilies and topped his with crumbled bacon. Good Soup. Thanks Juenessa. Bullwinkle
Empty potatoes only into a microwave safe bowl along with 3 cups of water.
On high, cook potatoes approximately 8 minutes.
Drain potatoes of most of the water.
Combine the potatoes, potato sauce mix (from the box), corn, diced tomatoes and green chilies, and 2 cups of water in a stove-top pan.
Mix well.
Bring to a boil.
Reduce heat; cover and simmer for about 15 minutes or until the potatoes are tender to your liking.
Add milk and cubed Velveeta.
Cook and stir until the Velveeta is melted into the soup.
Ladle into soup bowls.
Garnish with shredded cheese or sour cream, if you wish.
Serve.