My Mom's Seven Layer Dip is Better Than Yours. Way Better.

The key is mixing the taco seasoning in with the sour cream. Also, the refried beans. Beware though, eat this and you may never enjoy another Seven Layer tex mex dip again.
1 (16 ounce) can refried beans
guacamole
1 (8 ounce) container sour cream
1 (1 1/4 ounce) packet taco seasoning
1 bunch green onion, chopped
1 (8 ounce) bag Mexican blend cheese
tortilla chips, for dipping
Directions
Combine the sour cream with the taco seasoning in a bowl. Stir together until evenly blended.
Layer the ingredients in a large casserole dish in the order listed.
Head to the tailgate. If you want this to last more than 30 seconds you'll have to do your best to hide this from any college boys around before they swarm and start attacking this dip faster than sharks to blood during Shark Week.
Most Helpful
Meg J is right - no other 7-layer dip recipes come close to this one! I make it for tailgates and other gatherings, and I swear it just about instantly disappears. Put this one with your go-to recipes!
Delicious and irresistible! Make sure you have a crowd on hand, though, because this makes a lot! Perfect for watching football. Thanks for sharing.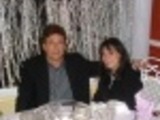 I made my guacamole. It had onion in it and the addition of the green onions just seemed like too much. Thanks for sharing, though.