My Crab and Veggie Crustless Quiche
kate09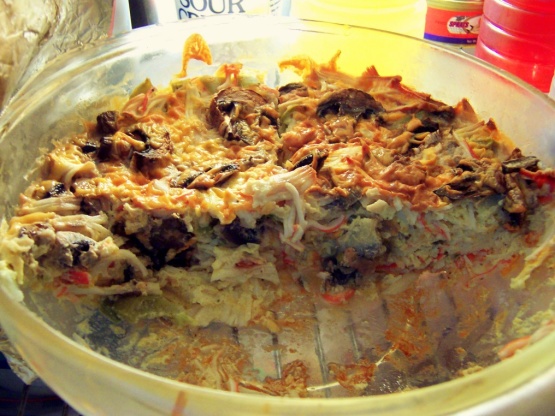 I looked up many quiche recipes but they all tend to be rather high in calories and fat. So here is my alternative. Healthy, all fresh ingredients, very filling. Note: I have only tried this in a toaster oven so you may have to adjust the times. Serving Suggestion: serve with a salad.
Preheat oven to 375*F.
Spray a round glass casserole dish with pam.
Combine all ingredients except for 1/4c cheddar cheese and a handful of the mushrooms.
Smooth out the top and lay the mushrooms in a layer on the surface.
Cover with foil, stick with a fork to vent the foil, and place in the oven for 35 minutes.
Take out, remove foil, and spread the remaining cheese on top of the mushrooms. Place in oven for 20-30 more minutes or until cheese melts and knife comes out clean.