Bergy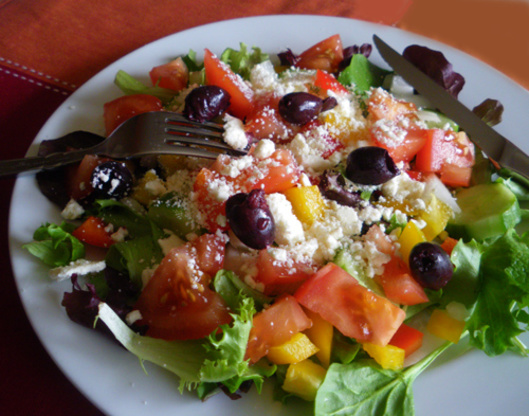 Super healthy, diet friendly! Get in shape! Serve as a meal or eat as a side dish. This is better because it's colorful and magical.

Top Review by Mia 3
Hello from Portugal, I made this salad just as written, mind you I had one heck of a time trying to get the feta cheese...lol..but I got it. In your pictures it looks like you also added a little bit of watercress. Am I right or just seeing wrong???, Anyways it was just perfect. I'm a salad lover...lol..lol.. thanks for the lovely receipe!
Put the lettuce in a large bowl. Add olives, feta, onions, cucumbers, and tomatoes.
In small bowl, beat together olive oil, lemon juice, and salt and pepper.
Pour the dressing over the salad.
Top with oregano, mint, and anchovies (if using).