Must-Have Chocolate Chip Cookies
marisk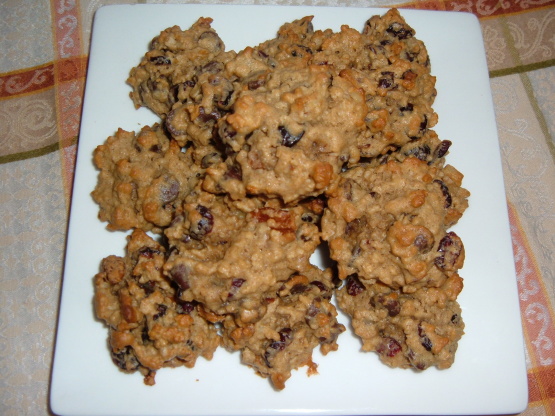 Copied from BHG.com. The low amount of sweetener and flour are what caught my eye as I've been looking for recipes to bake for my diabetic friends. Just made these a few days ago. I really enjoyed the flavor and texture. They're not so good using splenda.
Preheat oven to 350 degree F.
In a small bowl, combine raisins and boiling water; set aside.
In a large bowl, beat peanut butter and butter with an electric mixer on medium speed for 30 seconds.
Add sugar, egg, cinnamon, vanilla, and baking soda. Beat until combined. Add flour; beat until smooth. Stir in oats.
Drain the raisins. Add raisins and chocolate pieces to oat mixture.
Drop by rounded teaspoons onto ungreased cookie sheets. Bake about 10 minutes or until lightly browned. Transfer to wire racks; let cool. Makes about 40 cookies.