Mushrooms in Cognac Herb Sauce
ImPat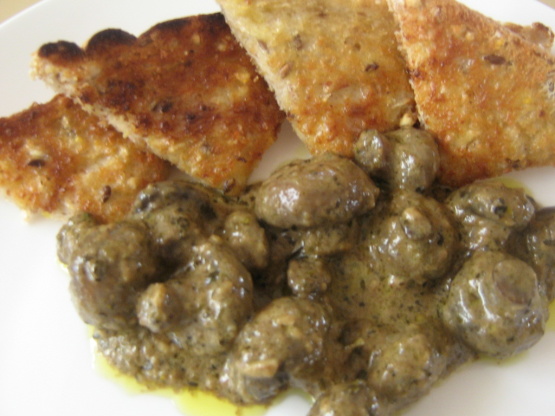 Don't let all the ingredients scare you. Most of them are herbs. This is a great side dish for turkey or beef. Also can be used with wild rice. From my cookbook WINOS (Women In Need Of Sanity). Fresh herbs can be substituted...just triple the amount.

Top Review by ImPat
I cut this back to 4 serves and used fresh herbs from the garden and had it very slowly simmering for 3 1/2 hours to get a very rich herby tasting dish - after serving 4 as side to a b-b-q steak I had enough to be part of breakfast for the DM and myself the following morning but if reheating again I would use the stove top and not the microwave as the cream separated a bit and took a bit of stirring to get it back together. Thank you mary winecoff for a special occassion dish, made for Photo Tag game.
In a large skillet, saute shallots and mushroom caps in butter for 2 minutes. Season with salt and pepper.
Stir in heated cognac, ignite and stir until flame dies; set aside.
In blender or food processor, process garlic, parsley, rosemary, thyme, basil, turmeric, cumin, coriander, ginger, pepper and cream.
Add mixture to mushrooms. Put in heavy saucepan and cook over low heat until thick, approximately 3 hours, stirring occasionally.