Boomette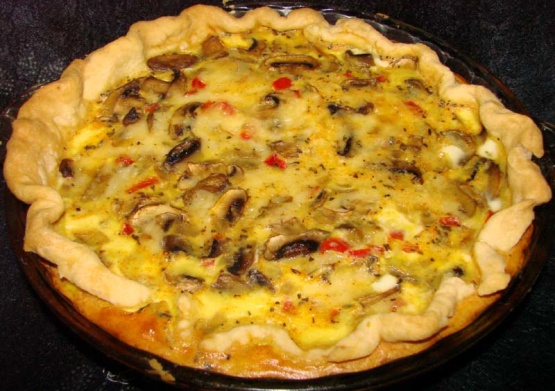 My husband, who *thought* he didn't like quiche, goes back for seconds when I make this one. This was my first try at making quiche and I really liked it. The cayenne pepper really gives it a nice bite. I have to admit I've never made it with the savory because I can't find it in my grocery stores, but I think it tastes good without it. Recipe is from Taste of Home.

I've been on a search for a yummy mushroom quiche recipe. My friend showed me how to make one and it's taken me awhile to realize that hers is tooo cheesy and very dense because she doesn't like to add any milk. I've watched people make quiche on YouTube and continued my search until I got here and made this recipe last night. I did change it however because of everything I've learned previously. The changes I made were:
3 cups sliced mushrooms
1 cup of milk
lemon pepper (i didn't like the listed seasonings)
bake pie shells at 425 for 8-10 min from slightly defrosted (no foil)
mix milk, eggs, cheese for each quiche is separate bowls
scatter mushrooms, etc. on bottom of pie shell (don't worry they somehow float up and mix)
pour liquid mixtures into each shell

THEY CAME OUT GORGEOUS AND THE BEST I'VE EVER TASTED !!! Bon Appetit
Line unpricked pastry shell with a double thickness of heavy-duty foil.
Bake at 450 degrees for 8 minutes.
Remove foil; bake 5 minutes longer.
Cool on wire rack.
Reduce heat to 350 degrees.
In large skillet, saute the mushrooms, onions and red pepper in butter until mushrooms are tender.
Drain and set aside.
In a bowl, combine the cheese and flour.
Stir in the milk, eggs, savory, salt and cayenne until blended.
Stir in mushroom mixture.
Pour into crust.
Bake for 40-50 minutes or until knife inserted near the center comes out clean (cover edges loosely with foil if needed to prevent overbrowning).
Let stand for 10 minutes before cutting.