Deantini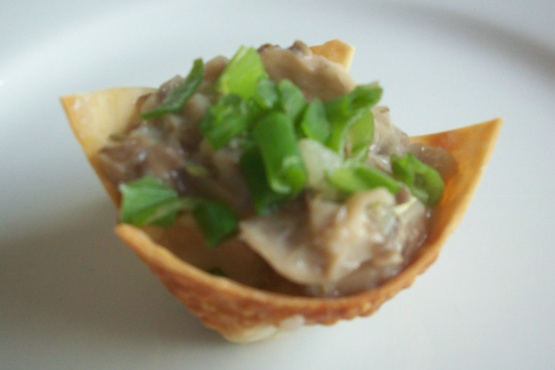 Wonderful little savory pastries. I learned this recipe in a cooking class and place it here for safe keeping.

Beautiful little appetizers! I changed the recipe a bit: I used wonton wrappers pressed into sprayed mini cupcake pans to form a shell - see picture - and cooked in oven for 10 min @ 350F as my base. I added garlic to the mushroom mix and used light sour cream instead of creme fraiche. I filled the mix into the precooked shells and voila - appetizers were served. I added some chopped green onion as a garnish for crunch, flavour and colour.
Preheat oven to 400 degrees. Lay puff pastry on a lightly floured surface. Cut into 25 squares. PLace on parchment paper lined baking sheet and brush with egg. Bake until golden about 12 minutes. Let cool.
Heat 3 Tbsp butter in large non stick skillet over medium heat. Add mushrooms and season with salt and pepper. Cook until all mushrooms turn brown and crispy. Transfer to small bowl. Drain.
Return skillet to stove, heat remaining 1 tbsp butter over medium heat. Add onions and season with salt and pepper. Cook until tender. Add wine and stir to deglaze skillet cook until all liquid is evaporated.
Put mushrooms, onions, Creme Fraiche, parmesan and thyme in food processor. Pulse until combined, but not pureed. DO NOT overprocess.
Preheat oven to 350. Cut each puff square in half crosswise. Place a teaspoon of mushroom mix on one half of each square and top with remaining pastry half. Bake 5 - 7 minutes until warm. Serve immediately, garnish with sprinkling of parmesan cheese and a few thyme leaves.
Note: these can be made in advance and refrigerated, stored seperately, then assembled a couple hours in advance and baked just before serving.