Brenda.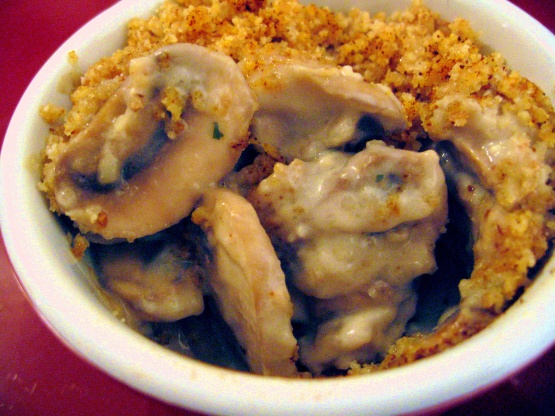 I just love mushrooms! Try this for a different vegetable side dish.

This dish was often made by my grandmother. She never handed down the recipe because it was committed to memory in pinch and dash form. Thank you for helping solve the mystery. I made it for my father who was thoroughly impressed that I could reconnect our kitchen with her soul. Next time I will reduce the sour cream by half, but otherwise this is simply perfect. We appreciate you sharing with our family! =)
Saute mushrooms in 1/4 cup butter for 2-3 minutes.
Add salt, parsley and flour.
Cover and cook over low heat for 10 minutes.
Remove mixture from heat and add lemon juice and sour cream.
Pour into a caserole dish sprayed with cooking spray.
Melt 4 tbsp butter and stir into bread crumbs (enough to cover casserole dish).
Spoon buttered bread crumbs over mushroom mixture.
At this point, you can cover and refrigerate overnight to be made the next day.
Before baking, sprinkle top with parmesan cheese.
Bake for 30 minutes at 350 degrees.
Sprinkle with paprika (optional) before serving.