Mozzarella Sauced Spicy Burgers
Pamela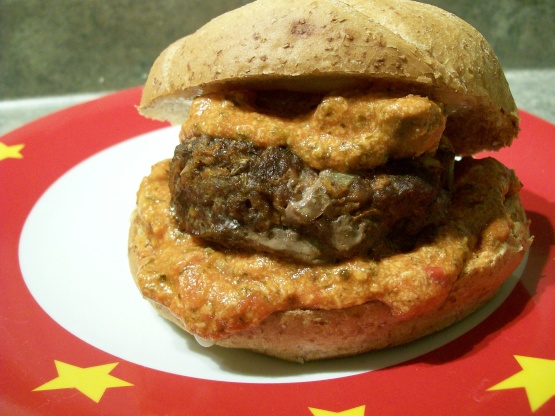 ------Mozzarella Tomato Mushroom sauce over spicy beef burgers.--------

Love it but a little spicy
1

lb beef, minced, extra lean is best

2

tablespoons soy sauce
1⁄2 cup onion, white, chopped

1

cup fresh carrot, grated, about 1 large

1

egg, lightly beaten

1

teaspoon fennel seed, crushed
1⁄2 teaspoon ginger
1⁄2 teaspoon cumin
1⁄2 teaspoon coriander
1⁄2 teaspoon cayenne pepper, divided

1

(7 1/2 ounce) can pizza sauce, I used hot and spicy
1⁄2 cup fresh mushrooms, sliced

2

tablespoons fresh parsley

2 -3

teaspoons cornstarch

3

teaspoons water
1 1⁄2 cups mozzarella cheese, shredded

8

ounces mozzarella cheese, sliced

4

hamburger buns
Preheat oven to 400f degrees.
Slice bun in half and place on non stick cookie tray; top each half with cheese slices; set aside.
In a large bowl combine beef, soy sauce, onions, carrots, egg, fennel seeds, ginger, cumin, coriander and 1/4 teaspoon cayenne pepper, mix well.
Separate meat mixture into 4 portions and form into burgers; place on wire rack in an oven roaster; bake for 30 minutes or until no longer pink inside.
While burgers are cooking make the cheese sauce in a nonstick saucepan over medium heat; combine pizza sauce, mushrooms and parsley, bring to simmer; add all of the shredded cheese and the other quarter teaspoon of cayenne.
Simmer uncovered for 10 minutes.
Make a slurry of the cornstarch and the water; add to cheese mixture while stirring, simmer until thickened about 5 or 6 minutes.
When the burgers have cooked for 20 minutes, place the tray of cheese topped buns in the oven with them, to toast and melt the cheese slices.
To assemble:.
Place burger on bottom half of the cheesed bun, spoon sauce over the burger and top with the other half of the cheesed bun.
Serve with a green salad or oven fries.
Enjoy!