Moroccan Style Chicken in a Jar
Annacia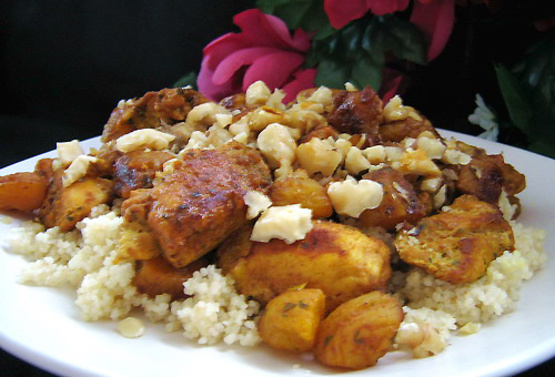 I am making my cousin a full days worth of meal mixes for Christmas this year. This is a GIAJ version of my Moroccan Style Chicken, which will be for the dinner portion. This makes about 1/3 cup of mix, which serves 8. Since it is just the two of them, I am going to package this in a recycled spice container, but you could also use a larger jar and add some dried apricots, so that all the gift receiver would need to add is chicken, oil, and water. Cook/prep time is for actually cooking the chicken.

Gave this as a part of my grandsons Christmas Basket. Thanks for posting , he was thrilled I actually had this for supper tonight. It was wonderful , served it with noodles and a medley of onions, mushrooms and zuchinni. I added 1 tbsp of cornstarch at the end the thicken the sauce. The sauce was perfect and I am trying to think of what else can I use it with. Thanks for posting.
To make mix: Mix ingredients together, and put into an airtight container. Will store for 6 months.
To make Moroccan Style Chicken: Combine mix with oil and chicken in a gallon sized ziploc bag, and squoosh around to thoroughly coat chicken and apricots.
Heat your largest skillet over medium high heat. When it is nice and hot, add the chicken to the pan, spreading it in a single even layer.
Brown chicken; turn and brown other side, about 4 minutes per side.
Add water; stir gently to combine. Bring to a boil, then turn heat down and simmer 10 minutes.
NOTE: If you are mixing up a multiple of this recipe, you can use about 1 T. of the spice mix, 1/2 T. apricots, and 1/4 pound of chicken for each serving.