Moroccan Harira - a Favourite in Algeria
Um Safia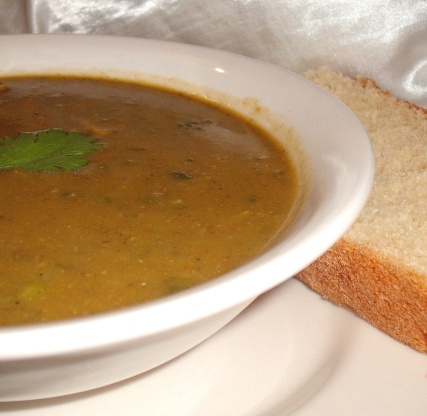 A hearty, spiced soup which is especially good during Ramadan. This harira is a family recipe - guaranteed to be AUTHENTIC! This harira freezes very well so can be made in advance and frozen in portions (a big time saver!) so good for OAMC. Kids tend to like it as it has no bits for them to identify and moan about too.

I love harira, am always ordering it in restaurants here, but have never really had the opportunity to make it myself. This was a very good recipe, although in step 24 it says to add the ras el hanout which is not listed in the ingredients. I used chicken pieces and served this up with some couscouse and Moroccan carrot salad. Thanks for bringing one of my favorite eating out pleasures home.
In a medium sized bowl, pour 1 cup of water, the lemon juice and the flour. Set aside.
Also put 1 garlic clove and 1/4 of the corriander to one side until the end of cooking.
Take a heavy bottomed pan or pressure cooker and place the meat (if using small pieces or boneless meat, it's best to secure them in a muslin cloth bag), add the vegetables and remaining corriander roughly chopped.
Fry those ingredients with a little oil, 1 tsp of ras el hanout for a couple of minutes then pour on the water and leave to simmer, covered for 1 and a 1/2 hours or around 45 minutes in a pressure cooker. (or until meat and vegetables are tender) Add salt & pepper to taste.
Remove the meat and set aside. Remove any traces of bones, gristle etc.
Liquidise the remaining vegetables and push through sieve when finished, take another cup of freshly boiled water and pour over sieve to get any last traces!
Put everything back in the pan and on low heat (just enough to reach a slow boil) You may wish to add a little more water or stock at this stage.
When the harira reaches the boil, lower heat a little & add the flour mixture prepared in step 1. Add a few tbsp of the harira to the flour mix first. Remember to add gradually and stir continuously to avoid lumps.
Turn heat to low and finely chopped coriander (last 1/4), final garlic clove minced & 2 tsp of ras el hanout. Allow the harira to heat through again so garlic is not raw.
Sprinkle more coriander on top if desired and serve with fresh bread.