Moroccan Cauliflower With Spices
Baz231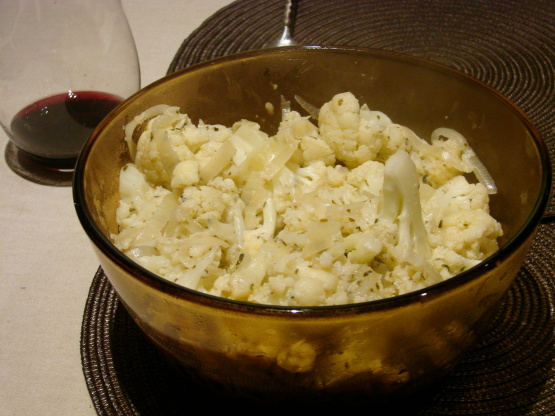 An excellent side dish. For variation, the caulflower florets can be steamed and then added to the other ingredients, except the flour and water, and be served as a salad. Taste and add more oil of necessary.

I upped the ginger significantly (maybe about 2.5 thumb-sized pieces of fresh root, put through a garlic press), added some garlic and a little bit of fresh nutmeg, and didn't mess around with the flour (the water either absorbed or evaporated away). It was delicious. One of my guests didn't even like cauliflower, and still ended up devouring it. The ginger and coriander made it so flavorful! This will become a staple side-dish in my kitchen.
Heat the oil in a medium pan. Add the ground and fresh coriander, onions and cauliflower florets, stir well and add the water. Bring to the boil, then reduce heat to very low, cover and simmer for 15 to 20 minutes.
Take 1 and 1/2 tablespoons of the cauliflower "stock" from the pan and stir into the flour to make a smooth paste, then add back to the cauliflower in the pan. Simmer for a few minutes, then season with ginger, cumin and lemon juice.
Leave for 1 to 2 minutes for the flavours to develop, then serve warm or at room temperature. (Or see description for variation to make salad.).