teresas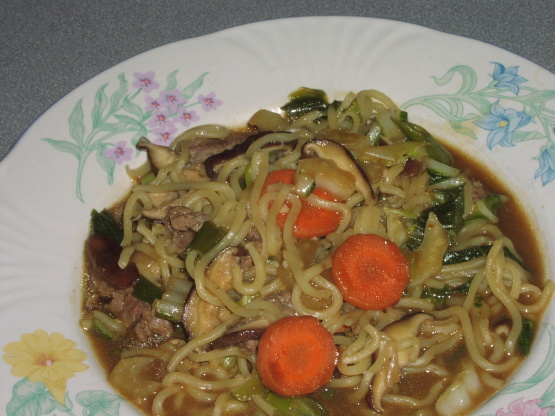 I am posting this recipe because it was in a cookbook I received from NE Lady in the cookbook swap March 2009. I was intrigued by the picture in the cookbook; however, mine didn't turn out looking like the picture! I had way too many noodles and too little broth. The cookbook, "Soups for Any Body" states that it is a mix between a soup and a stew. Mine was pretty thick, so I would add more beef stock to the recipe. I'd also serve more soy sauce with each serving, and allow each diner to add their hot pepper oil. If you let your meat marinate while you chop the vegetables, it gets on the table pretty quickly! I did change it a little...I increased the meat by 4 oz.

Delish! I made a few changes; used white wine instead of sherry wine and sesame oil instead of peanut oil. The recipe does not state when to add the garlic so I assumed that I should add it to the marinade. Next time I will add 1/4 cup of hoisin sauce as 1/3 cup makes the dish quite sweet. I also added an extra 1/4 cup of soy sauce which balanced out the sweeetness a bit. I cooked the noodles seperately. It was liked by both adults and kids and it will definitely go in the 'repeat' folder. We added extra red pepper flakes at the table. Made for 123 tag.
59.14

ml sherry wine or 59.14 ml white grape juice

36.97

ml gingerroot, finely grated

29.58

ml soy sauce

29.58

ml peanut oil

14.79

ml brown sugar

14.79

ml cornstarch

2

large garlic cloves, crushed

2.46

ml red pepper flakes

340.19

g flank steaks or 340.19 g sirloin steaks, very thinly sliced across the grain and cut into 1 1/2-inch lengths

453.59

g bok choy, thinly sliced crosswise

99.22

g fresh shiitake mushrooms, wiped, stems removed, and thinly sliced

4

large scallions, thinly sliced

2

medium carrots, peeled and cut into 1/4 inch slices

946.36

ml beef stock (I would use more...at least a cup more)

473.18

ml water

78.07

ml hoisin sauce

113.39

g soba noodles
chinese hot pepper oil, to taste
Combine the sherry, ginger, soy sauce, 1 tbsp oil, brown sugar, corn starch, garlic, red pepper flakes, and beef in a resealable plastic bag and seal. Turn several times to coat and marinate 30 minutes at room temperature, or refrigerate for up to 24 hours.
Heat a large wok or pot over high heat. Add 1 tsp oil. Lift the beef from the marinade with a slotted spoon, reserving the marinade. Quickly stir-fry the beef until lightly browned on both sides, about 1-2 minutes. Remove from the pan and set aside.
Add the remaining oil and stir-fry the bok choy, shitakes, scallions, and carrots for 1-2 minutes. Add the reserved marinade, stock, water, and hoison sauce. Bring to a boil. Stir in the noodles and simmer until tender, about 8-10 minutes. Return the beef to the wok or pot, cooking just long enough for the beef to heat through. Finish with a few drops of Chinese hot pepper oil. Do not let it sit before serving, or the noodles with absorb the liquid and swell!