loof751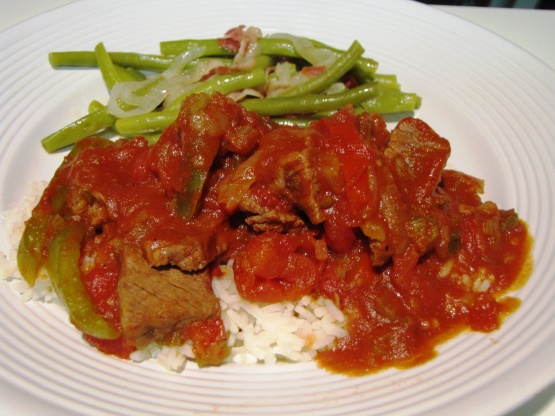 My mom used to make this a lot when I was a kid. My mother was really good at taking any meat and making it tender. Choose whatever cut of beef you want but definately adjust the cooking time. We enjoy it at least once a month in my household. Sometimes I put a pat of butter on my rice before ladeling the pepper steak on top. Yum!

Terrific - tender and flavorful! I had plenty of liquid and didn't have to add any water. I simmered with the lid on for a little more than an hour, then removed the lid and simmered for an additional 15 minutes to thicken the sauce. Served over rice, this was fantastic - thanks for sharing your recipe! Made for Spring PAC 2009
Cut beef, onion, peppers, and celery into strips, about the size of a matchstick and 1/4 inch wide.
Melt butter in a stockpot over medium high heat. Brown the beef.
Add the rest of the ingredients to the stockpot. Season liberally with salt and pepper.
Bring to a boil. Reduce to a simmer and cover. Cook for 1 hour or more until meat is tender.
Add water as necessary if liquids evaporate too quickly.
Serve over white rice.