Rali5201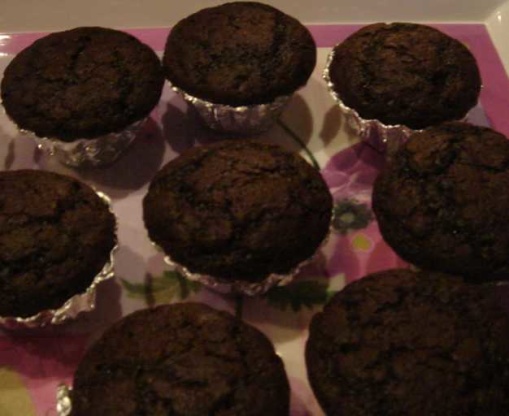 I would first like to make some changes.<br/><br/>The instructions say to mix the first ingredients and egg until smooth; you should know it does not get smooth. It turns into what looks like the texture of wet-ish sand. After adding the milk mixture, the batter became very smooth. However, after tasting it before pouring it, I discovered it was terribly bitter. So after adding about 1/4 cup milk and the same in sugar, it was a lot less bitter.<br/><br/>I would also like to note that this recipe only make 9 cupcakes. I might have stretched for 10 but I wanted them a little fuller. <br/><br/>23 minutes on 350 worked well for me. They passed the toothpick test and were immediately removed from the pan. They tasted dense and still had a bitter after taste... more like dark chocolate than coffee. <br/><br/>They might taste better with a nice frosting, but plain.. the way I like cupcakes.... trash can.
Preheat your oven to 350 degrees and line your pan with paper liners.
Mix together flour, cocoa powder, ground coffee, baking powder, baking soda and salt in a small bowl.
In a large bowl, whisk together sugar, oil and egg until smooth. Add flour mixture and beat until combined.
In a small bowl whisk together milk, instant coffee and vanilla until coffee is dissolved.
Add milk mixture to batter and beat until smooth.
Pour or scoop batter into pan and bake 20-25 minutes or until a toothpick inserted in cupcake's center comes out clean. Cool in pan 10 minutes then remove and cool completely.