Mini Vanilla Scones (Like Starbucks)
Mama Di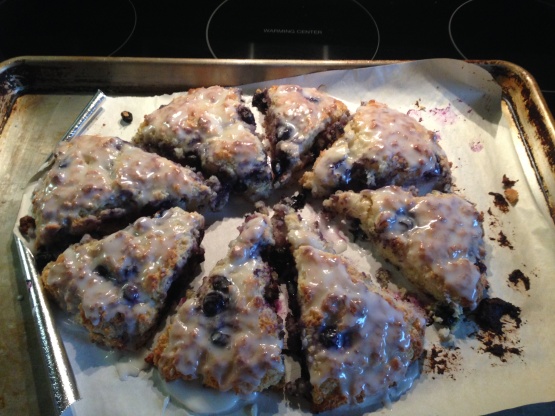 I love Starbucks's mini vanilla scones, so much so that I set out to create my own copycat version. After many trials, I think I got it! Like the Starbucks version, these scones are sweet, buttery and vanilla-y, and have a light and tender texture. Full-fat sour cream is the key ingredient, so please do not substitute. To duplicate the Starbucks's version, I topped it with a simple powdered sugar glaze.

These scones are fabulous. I used the whole stick of butter just because I felt sorry for the little piece that was left over. The grate butter method is Genius!!! This scone recipe produces nearly instant gratification... no refrigerating the dough, no rolling the dough, you just turn the dough out directly onto the baking sheet and shape it right on the sheet, bake for 15 minutes, glaze it warm and eat it warm. So easy and delicious that I had to write this review. I have never felt compelled to do so before. YUMMY!!!
Preheat oven to 400 deg. F.
Whisk together dry ingredients in a medium bowl.
Using any method you prefer, cut the cold butter into the dry ingredients until flour resembles coarse meal, or use the following tip:.
The "grate" method: I grate a block of cold butter against the large holes of a box grater and weigh the butter ribbons to get the amount I need (1 TBL butter = 14 grams, so 5 TBL = 70 grams). Toss the butter ribbons with the flour mixture, and then use two knives to cut the flour-coated ribbons into 1/4-inch pieces.
In a separate bowl, whisk together the sour cream, egg yolk and vanilla extract until blended. Add this to the flour-butter mixture and stir with a fork until dough forms a cohesive ball. Use a spatula to get the dry bits fully incorporated. (It may not seem to have enough liquid at first, but the dough will eventually come together.).
Place the sticky dough onto a parchment-lined (or ungreased) baking sheet and pat into a disk about 1-inch in height. Cut the dough into wedges but do not separate. Or scoop dough into a mini scone pan if available. (Yield will vary depending on how big you slice the wedges.).
Bake for 15 minutes or until golden brown on top.
PREPARE GLAZE WHILE SCONES ARE BAKING.
GLAZE:.
Place powdered sugar in a medium bowl, and add water one teaspoon at a time, mixing vigorously until smooth and runny.
Use a pastry brush to apply a thin layer of glaze over the hot scones. Brushing rather than drizzling gives a smoother appearance and requires less glaze.
Serve immediately. Store cooled scones in an airtight container.